Frija, a brand new Samsung firmware download tool for Windows PC is here. 
Want to download latest official Samsung firmware for your Samsung Galaxy device? It's very easy to grab firmware for Samsung devices now. Frija, a brand new Samsung firmware download tool for Windows PC is here. Frija can download Samsung official firmware or Odin files directly from Samsung FUS (Firmware Update Server) at high speed. All you need to know about is the model number of your Samsung Galaxy phone or Tab and the CSC to download the correct firmware. The tool can download BL, AP, CP, CSC, and Home_CSC files to flash it with Odin.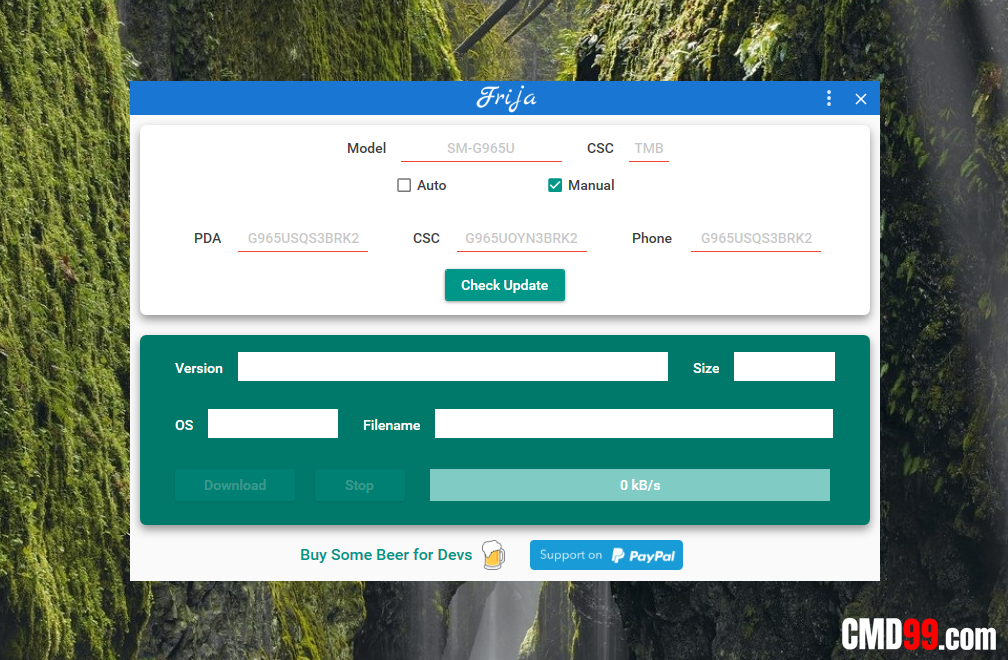 Frija can download the latest Samsung firmware automatically and manually both. If you need to download the latest or even an older version of Samsung device to flash using Odin, Frija is just the perfect firmware download tool for you. In this article, you'll be able to download Frija and learn how to use it.
There was a time when we had to rely on a few websites to download the latest Samsung firmware. There's nothing bad in that until those websites started demanding the users to buy a membership plan to get a faster download speed. Since Samsung firmware are very heavy in size (ranging from 4-5GB) depending on the device models, it sometimes took dozens of failed attempts before one could download the firmware for Samsung Galaxy devices.
It's time to say goodbye to third-party firmware download websites. You don't need to buy a membership or pay a one-time fee to download the firmware for your Samsung device. You don't need to browse any index of Samsung firmware or search for the firmware file. Frija is a completely free tool that you'll love for sure and if you do, do consider show a gesture of appreciation for the developer wssyncmldm by making a donation via PayPal. Other contributors behind this awesome Samsung firmware download tool include eragon5779 and CrazyApe18 from the XDA forums. Before we begin, let's do a detailed comparison between SamFirm and Frija.
Using Frija Samsung Firmware Download Tool
Frija really makes Samsung official firmware download for Odin a breeze. It has a clean UI and it's a very easy-to-use Samsung firmware download tool.
Having downloaded Frija, unzip the downloaded zip file and open the folder.
Double-click '

Frija.exe

' to run it and wait for the program to launch.
To download the latest Samsung firmware for your device, leave the 'Auto' option enabled. Click on the 'Model' field and enter the model number of your Samsung phone or tablet device.
If you don't know the model number of your Samsung device, you can find it out by going to Settings> About phone.
The next thing you need is the CSC code of your Samsung device. To find out the CSC, open the phone dialer on your device and dial *#1234#. You'll then be able to see the AP, CP and CSC version of your device's software. Learn more about Samsung CSC in our detailed tutorial.
The first 3 letters followed by your device's model number in the CSC section, is the CSC of your device. There's yet another way to find out the CSC. Go to Settings> About phone> Software information and scroll down to Service provider SW ver. You'll find it there (see screenshot).
Note it down, click the CSC field in Frija and type the 3-letter CSC code.
Once you have entered the model number and CSC of your Samsung device, click the 'Check Update' button in Frija. The firmware download tool will check for the Samsung firmware update for your device and show you the latest firmware version that's available for you. As you can see below, Frija is showing the version of AP, CP, and CSC for my Galaxy S9+. It'll also show the size of the firmware file and the OS version.
Just click the 'Download' button to download the official Samsung firmware Odin files for your device. When the tool asks you to select a destination location to save the firmware zip file, obey it.
If you got a fast internet connection, Frija v1.3.0 will download the stock firmware in no time.