The iTools available for Windows platform as a free download version. iTools runs on Windows smoothly comparing to the iTunes, the Apple's official iDevice synchronization application. The iTools armed with the drag and drop functionality which is really doing amazing files and data management.
In the same way, the iTools has significant tools like ringtone maker, file explorer, music transfer tool, restore and backup, video transfer tool, audio transfer tool, PDF transfer tool, text transfer tool, podcasts transfer tool, and transfer tool and real time screenshots tool.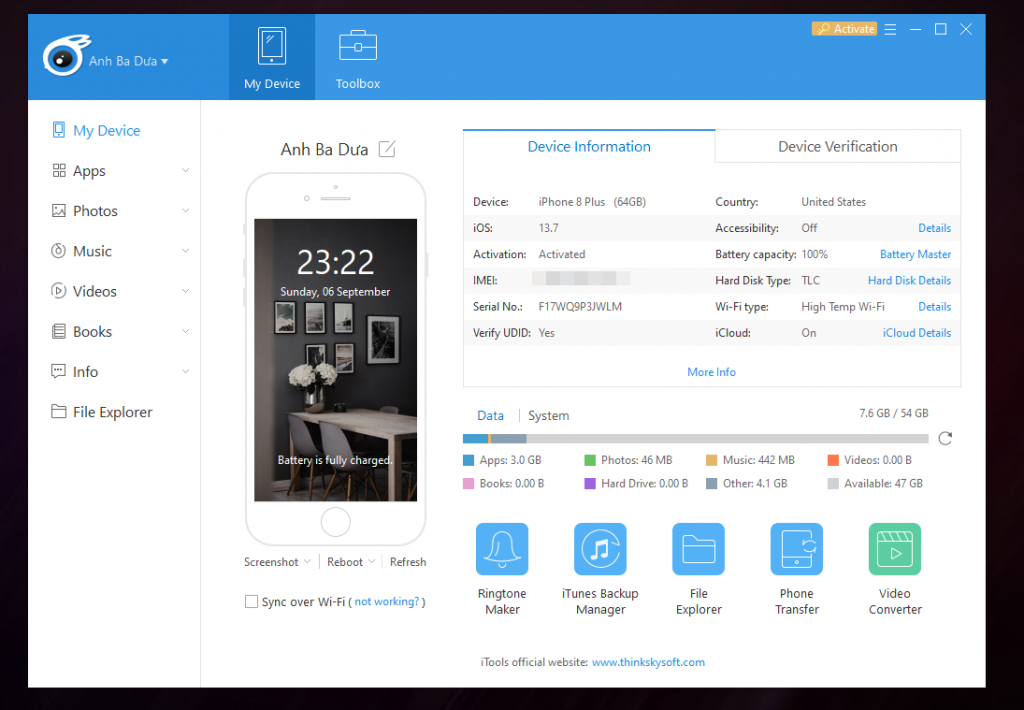 How to use the iTools English verion?
Here are the crucial steps that you should follow when using the iTools English. The first in the procedure is to open the iTools app and then connect your iPhone. After few seconds pass; you will be able to see the app on your iTools English main screen.
Next, just under the left pane's Library, you will be able to click on applications. After few minutes pass, you will be able to see that all your iPhone's applications are listed on the iTools main window. Here is what you could do next in the process.
Now it is time for transferring your app to your iPhone. Go to the install button at the top of iTools, window and click on it. Next, choose the app that you want to transfer and as the final step choose the Open button which can be seen at the lower right part of the dialog box. Now drag the app file and place it on the iTools English main window. Now a message as "installing" will appear.
After few seconds pass, you will see that the application has been successfully installed.
Download iTools 4 English for Windows
Filename: itoolssetup_4.4.5.8_en.exe
System requirement for Windows computers
Windows Vista
Windows XP
Windows 7, 8, 8.1 and Windows 10
50 MB of storage
See the compatible iDevices for ITools Windows
iPhone X, iPhone 8,iPhone 5, iPhone 6, iPhone SE, iPhone 7,iPhone 5C,iPhone 5S, iPhone 6S,iPhone 6 plus, iPhone 6S plus, iPhone 7 Plus
iPod touch
iPad 4,iPad Mini 4, iPad Mini 3 and iPad Mini 2,iPad Pro (9.7 , 12.9 inch),iPad Air and iPad Air 2