Google Camera 8.0 mod brings the Pixel 5's camera app to OnePlus, Xiaomi, ASUS, and other phones.
The Google Pixel 5 and Pixel 4a 5G were launched with a new version of the Google Camera app (v8.0) that featured a revamped UI and some exciting new features. While the app was initially reserved for Google's latest phones, the company recently released Google Camera 8.1 which brought the new UI, Cinematic pan mode, and the Storage Saver feature to older Pixel devices. Now, thanks to the efforts of XDA Senior Member Arnova8G2, you can enjoy the new Google Camera 8.0 UI and features on a bunch of non-Pixel devices.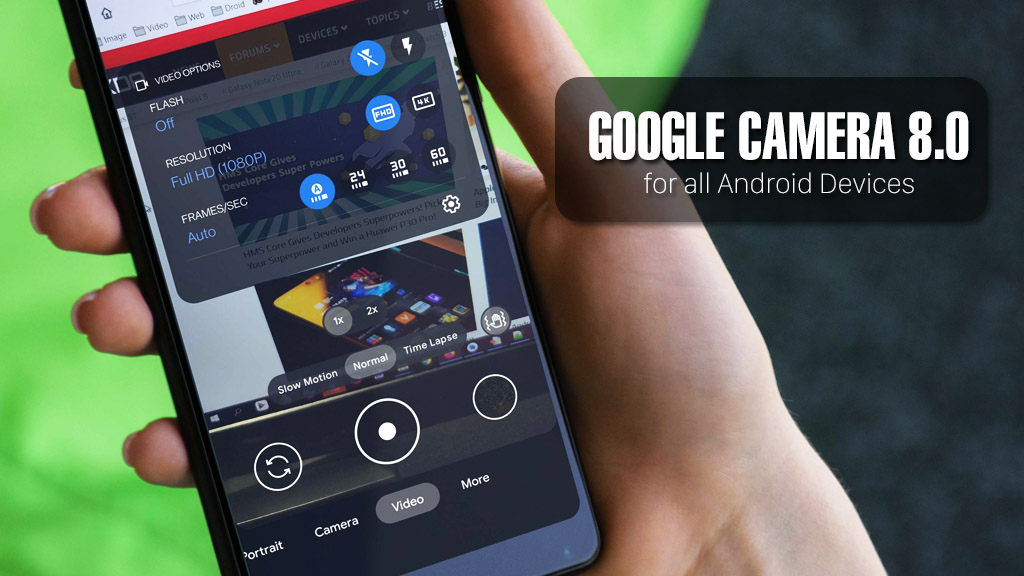 Arnova8G2's latest Google Camera mod, which is based on Google Camera 8.0.101, is now available for the following devices:
ASUS

ASUS ROG Phone 3
ASUS ZenFone 7 Pro
ASUS ZenFone 6

 Google

Google Pixel 5
Google Pixel 4a 5G
Google Pixel 4a
Google Pixel 4 XL
Google Pixel 4
Google Pixel 3a XL
Google Pixel 3a
Google Pixel 3 XL
Google Pixel 3
Google Pixel 2 XL
Google Pixel 2

 OnePlus

OnePlus 8T
OnePlus Nord
OnePlus 8 Pro
OnePlus 8
OnePlus 7 Pro
OnePlus 7T Pro
OnePlus 7

 OPPO
 Realme
 Samsung

Samsung Galaxy S20 Ultra
Samsung Galaxy S20+
Samsung Galaxy S10 Lite

 Xiaomi

Xiaomi POCO M2 Pro/Redmi Note 9S
Xiaomi POCO X3
Xiaomi Mi 9
Xiaomi Mi 9T/Redmi K20
Xiaomi Mi 9T Pro
Xiaomi Mi 10
Xiaomi Mi 10 Ultra
Xiaomi Mi Note 10 Pro
Xiaomi Mi Note 10 Lite
Xiaomi Redmi Note 9 Pro
Xiaomi Redmi Note 7 Pro
The Google Camera 8.0 mod includes the revamped UI that debuted with the Pixel 5/4a 5G, which features new buttons, a quick zoom toggle, quick access for video modes, a new icon for video recording, and cues to help users click a better image. As you'd expect, the mod also includes new features like Audio Zoom, Cinematic Pan, the Storage Saver mode, and social share for videos. Our Editor-in-Chief, Mishaal Rahman, tested the mod on his ASUS ZenFone 7 Pro, and he was able to access all of these new features on the device.
If you're wondering why the Google Camera mod is available for Google's Pixel lineup, that's because it enables additional options/tuning on Pixel phones that aren't available in the regular app. The mod also unlocks some of the Pixel 5's camera features that haven't been released for older Pixel devices. In case you have any of the aforementioned devices, you can download the latest Arnova8G2 GCam mod by following the link below.
Download Arnova8G2's GCam 8.0 mod